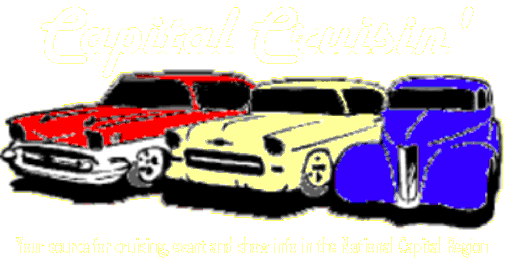 CruzNewz TM


Visit our Sponsors! Thank them for helping Capital Cruisin' improve and stay a FREE resource for you! We are always looking for more sponsors, so if your buisness or club is interested in supporting Capital Cruisin' and the local car scene, please send us an email!

Please use the contact information provided to verify the current status of each cruise before going. We do not run the cruises and are not responsible for their content or status.
Friday
Annandale, VA
Buena Vista, VA
Chester, VA
Colonial Beach, VA
Culpeper, VA
Falls Church, VA
Fredericksburg, VA
Louisa, VA
Manassas, VA
Palmyra, VA
Stephens City, VA
Sterling, VA
Winchester, VA
Woodbridge, VA
Abingdon, MD
Brandywine, MD
Glen Burnie, MD
Hughesville, MD
LaPlata, MD
Largo, MD
Laytonsville, MD
Lisbon, MD
Mechanicsville, MD
North Beach, MD
Rock Hall, MD
Charles Town, WV

Saturday
Buena Vista, VA
Charlottesville, VA
Fairfax, VA
Fredericksburg, VA
Front Royal, VA
Great Falls, VA
Haymarket, VA
Locust Grove, VA
Manassas, VA
Orange, VA
Stafford, VA
Sterling, VA
Winchester, VA
Woodbridge, VA
Yorktown, VA
Baltimore, MD
Charlotte Hall, MD
Eldersburg, MD
Frederick, MD
Gaithersburg, MD
Glen Burnie, MD
Hagerstown, MD
Lisbon, MD
Mt. Airy, MD
Olney, MD
Prince Frederick, MD
Rockville, MD
Westminster, MD
Bunker Hill, WV
Harpers Ferry, WV
Wardensville, WV


Sunday
Alexandria, VA
Fairfax, VA
Fredericksburg, VA
Middleburg, VA
Sterling, VA
Woodbine, VA
Woodbridge, VA
Annapolis, MD
Burtonsville, MD
Lanham, MD
Pasadena, MD
Rockville, MD
York, PA

Monday
Bowie, MD

Wednesday
Glen Burnie, MD
Laurel, MD

Thursday
Edgewater, MD
As we've grown larger and more popular (1000s of hits per month!) we have out-grown the limits Geocities puts on its free sites. We will be expanding and improving the site and to do so we were required to change over to a paid status for more bandwidth. If you find our site valuable and would like to see us do more with it and keep it on the air, please help sponsor Capital Cruisin by donating what you feel is appropriate. Any amount will help! We are looking for more sponsors too!

VIRGINIA
Alexandria Cars and Coffee "cruises" Hollin Hall in front of Roseina's at 1307 Shenandoah Rd in Alexandria VA the first Sunday of every month March through November from 8:30 to 11 am.

Sunday night cruise hosted by the Prince William Cruisers from 5 to 8 pm in Hayfield Shopping Center on Telegraph Rd in Alexandria VA.

Cruise the Virginia BBQ in Engleside Plaza at 8634 Richmond Highway in Alexandria VA every Sunday from 1 to 5 pm. 15% off to cruisers. Manager's choice trophy. Contact Penny Weir (Event Co-ordinator) at (717)371-1986 or (703)799-0346.

The Jukebox Diner has an informal "Cruise Night" every Friday night bringing together classic, antique, muscle cars, as well as street rods. The Jukebox Diner is located at the intersection of Columbia Pike and John Marr Drive, near KMart, just off Little River Turnpike (Rt. 236).

Cruise In on 21st St & Magnolia Ave in Buena Vista VA. Cruise the 3rd Friday of the month (Apr-Sept) at 6 pm and on the 3rd Saturday of the month (Mar, Oct & Nov) at 2 pm. Sponsored by the Klassic Kar Nutz!

Cruise-in on the 1st Saturday of each summer month held at the CHIC-FIL-A at Woodbrook and 29 by the LOWES store in Charlottesville VA.

Cruise C'Ville Coffee House at 1301 Harris St in Charlottesville VA every first Saturday of every month March through November from 7:30 to 9:30 am. No admission, no loud music, no judging, just car guys and gals getting together to admire beautiful cars. Guided parking on a first-come basis. Grab a cup of coffee, admire the cars and leave when you want. Email Frank for more info.

Cruise-In at Ironbridge Sports Park at 11400 Iron bridge Rd in Chester VA once a month on the 1st Friday night starting in April to October from 5 to 9 pm weather permitting. Good lighting, clean restrooms, great food, indoor and outdoor seating, and plenty of parking with designated parking lot for Cruise-In participants. Ironbridge Sports Park is a family entertainment facility offering 2 go-kart tracks, miniature golf, a driving range, batting cages and great food. Contact Stacy at 748-7770.

Fat Freda's has a cruise night the 1st and 3rd Fridays from 5 pm till 9 pm. Trophyies for Best Custom and Best Classic. Contact Bud Tressler at (804)224-1211 for more information.

Cruise Arbys on Friday nights at 6 pm on 29 business in Culpeper VA. Call Bob Lehmann at (540)825-2612.

Cruise In every Saturday night from 5 to 9 pm (weather permitting), in the parking lot behind Joy Unlimited, on the corner of Main St (#236) and University Dr, in the heart of downtown Fairfax. Classics, antiques, muscle cars, street rods all are welcome. Co-sponsored with Woodys Ice Cream, bring your car and get a free ice cream cone. Call Lyn at (703)385-9125 for more information.

Breakfast/Coffee Cruise-in every Sunday morning that it is not raining from 8:30 am until 11 am at the Fair Lakes Starbucks at 12599 Fair Lakes Circle in Fairfax VA. Just 2 minutes from I-66 and 7100. Everyone parks in the Kohls parking lot next to Starbucks. They get a nice variety of cars from hot rods to exotics! Contact Robert Williams

First Friday Falls Church Cruise! The ArtALot Cruise-In will be held the first Friday of the month from May to October in Falls Church VA at 111 Park Ave from 5-8 pm. No entry fee. Free dash plaques and T-Shirts for the first 20 that show. Trophies for top three finishers. Artists, craftsmen & musical performances. For more information call Tom at (703)534-4202.

New cruise at Dairy Queen at 10907 Courthouse Rd in Fredericksburg VA starting the last Friday in March (weather permitting) until the last Friday in October from 6 pm to 10 pm. Lots of trophies and collecting donations for different charities each month. Lots of parking space. Oldies music and DJ. Sue Wilson and the Stangs & Fangs club will be doing this cruise in. Lots of door prizes and Dairy Queen will be helping out with a couple of special trophies. Call (540)207-5678.

The Fredericksburg Classic & Muscle Car Club (FC&MCC) cruisin is held at Virginia Barbeque at Route 1 & Fall Hill Ave in Fredericksburg VA from 5 pm to 9:30 pm each Friday night starting the last Friday of March weather permitting until the last Friday in October with oldies music & 50/50 Raffle. Also have door prizes and trophies. All money raised goes to help needy families at Christmas time in the local vicinity. Contact Wes at (540)775-7614.

Cruise the Family Diner every Saturday night with the Virginia Stockers Car Club at 2100 Princess Anne St in Fredericksburg VA from 5 pm to close from April through October weather permitting. Diner T-Shirts are for sale for $20 and each person that dines wearing a Family Diner shirt will be given a 10% discount. For more information contact Monk at (540)373-3330.

Cruise Quaker Steak & Lube every Sunday beginning at 2 PM at 1300 Central Park in Fredericksburg VA. DJ. Food & drink specials. Call (540)786-4688.

Cruise Roy Rogers at Riverton Commons in Front Royal VA the 2nd Saturday of each month (raindate is the 4th Saturday of the month) from 5 PM to 9 PM from April through October. For more information call (540)635-7676 or (540)635-2320.

Cruise the Quality Inn in Front Royal VA sponsored by Royal Rods Car Club of Front Royal the 1st and 3rd Saturday of each month during car show season. Call (540)692-0752.

Cruise the South Street Grill at 424 South St #A in Front Royal VA (in the Royal Plaza Shopping Center) the 3rd Saturday of every month from 5 pm to 9:30 pm. For more information call the Grill at (540)636-6654.

Cruise the Katie Coffee Shop every Saturday in Great Falls from 7 am to 9 am.

Cruise Main St (Washington St) in Haymarket VA every Saturday night weather permitting from 6 pm to 9 pm. Foster's Grille, McDonald's, Cupcake Heaven, Young Chow Cafe, El Vaquero West, Pizzarama, Subway, Haymarket Delights and Giuseppe's are the eateries in town. Contact Kim at haymarketfun@aol.com

Cruise the 2nd Saturday night of each month from April through October from 5 pm to 9 pm at the Locust Grove Town Center in Locust Grove VA. Hosted by The Good Time Cruisers. Bring canned food donations. 50/50 and 2 trophes (best old car and best new car).

Lake Anna Cruizers of Mineral VA will be holding their monthly cruise at Hardee's in Louisa, VA. They will cruise on the 2nd Friday of each month from April to October. The cruise starts at 5 pm and runs to about 9 pm. Door Prizes, Music, 50/50 and Trophies for the Best Cars. Bring a stuffed animal for the Louisa County Sheriff's Department and be eligible for a "Special" Door Prize. Call Bill at (540)967-2062 for more information.

Cruise-in at the Rt. 234 Bypass/Rt. 28 Burger King (10991 Nokesville Rd) every Saturday night all year long (weather permitting) from around 4 to 10 pm. Sponsored by the Bull Run Street Rods. Street Rods, ProStreet, Cobras, Muscle Cars and Street Machines...it's all here! On nice nights there are sometimes 300+ cars in attendance, making it Northern Virginia's largest Cruise-in! Make sure to go inside, grab a burger and see the "Wall of Fame," pictures of many of the cars which have cruised the BK.

Cruise the Jukebox Diner at 8637 Sudley Rd every Sunday from 2 to 6 pm (weather permitting). 20% discount for cruisers. Call (703)330-0850 Ext.3

Applebees in Manassas on Liberia Ave will now have a Friday Night Cruise-In from 5 to 9 pm.

Coffee & Cars every Sunday morning, weather permitting, from 7 to 9 AM at Common Grounds located a 114 W. Washington St in Middleburg VA. Call Duane at (540)687-7065.

All show quality vehicles are invited to display their ride from 6 PM to 9 PM at the dentist office beside the CVS in Palmyra. Our regulars that come have everything from Model T's, exotics, to modern Muscle. Feel free to join in on the fun, no dues just good ole boys and girls enjoying beautiful cars.

Cruise every 3rd Saturday from 4 pm to 9 pm at the Burger King in Orange VA with the Orange County Cruisers from April through October.

The 610 Cruisers host a cruise-in every Saturday starting at 4:30 pm and running until 9 pm at the Burger King located at 269 Garrisonville Rd in Stafford VA. Also know as the former "Bruster's Cruise-In", the cruise-in has DJ music, door prizes, family-oriented games and a variety of trophies each week. For more information contact Ron Phillips at (540)273-9015.

Yesterday's Rides has a cruise-in on each 2nd & 4th Saturday next to the Dairy Queen in the Ferry Farm Shopping Center on Rt 3 West about a mile past the Chatam Bridge on the Left.

Beginning at the end of March, if the weather is nice, Cruise-In each Friday night at Chick-fil-A in the Dulles Town Crossing Center in front of Lowes. Parking for 1981 or older cars only! Call Bill or John for more information (703)444-0300.

Cars & Cigars will be held every 2nd Saturday at 3 pm at The Bungalow Lakehouse at 46116 Lake Center Plaza in Sterling VA. Josh Canestra (703)928-5003.

Wheels & Wings will be held at the Sterling Jukebox Diner at 46900 Community Plaza every Saturday from 4 to 8 pm. All drivers receive a 20% discount. Call Bonnie at (703)398-7887 or (703)430-4000 ext. 2

Cruise in with Captain Mas Crabs, Coffee & Donuts for Cruise in Rides every Sunday from 9 am to 11 am at 46303 McClellan Way in Sterling VA. Donuts and beverages will be available! Call (703)444-5400 for any questions.

Cruise Advance Auto from May through October in Stephen City VA on the 2nd Friday night of the month from 5 to 8:30 pm. Rodder of the month, car and truck awards. 50/50 and music. Call Maggie (540)398-1212.

Yesterday's Cruisers of Winchester, Inc. have a cruise-in on the 3rd Saturday of every month at Anthonys Pizza on Valley Ave in Winchester VA from 6 pm till 9 pm April thru September.

Cruise the Backseat Bar And Grill at 104 Full House Dr in Winchester VA very Friday from 5-9 pm. Call (540)665-9033.

Cruise at the Woodbine Shopping Center (13414 Dumfries Rd) every Sunday starting at 3 pm at the BB&T Bank Lot. Contact Jeff Berry at (703)926-3993 or email him at jeffshotrods@aol.com.

Cruise the Glory Days Grill in the Smoketown Plaza on Smoketown Rd every Friday night from 6 to 9 pm. This is an open event sponsored by the Prince William Cruisers.

Cruise-in every Sunday at Burger King (16551 River Ridge Blvd, Woodbridge, VA) from 3:30 pm to 7 pm, weather permitting. Trophies awarded to Top 5 vehicles (participate voted). This is an open event sponsored by Extreme Custom Collision, American High Performance and Dominion Auto Detailing. Participates can RSVP at http://www.meetup.com/musclecarclubofamerica

Cruise-in every Saturday beginning in April from 5-9 pm weather permitting at McDonalds at 14075 Shoppers Best Way in Woodbridge VA. Located in the shopping center with Dick's Sporting Goods. Call Joe at (703)946-1028.

Cruise every Saturday night April through October from 5:30 pm to 9 pm in the Heritage Square Shopping Center in Grafton VA (new location). Open to all makes/models/years cars trucks. Sponsored by the Classic Cruisers Car Club (757)868-6900.
MARYLAND
Abingdon, MD

The Lowes Cruise Night has a DJ with video capabilities who shows old drag racing videos after dark. Once a month there is a Dash Plaque Night (no charge) where Cruise T-shirts are sold at the DJ stand. This cruise has the total support of the Lowe's store. The cruise is held at the "Lowe's Home Improvement Warehouse" at 414 Constant Friendship Blvd in Abingdon MD.

"Cars and Coffee" is held at the rear area of the City Dock in Annapolis, MD each Sunday from 9 am until 12 noon (yep that's am) was started by a group of high end car owners (Lambos, Ford GT's, Ferrari's, etc.) but has now expanded to include all types and years of new and classic street rods, customs, high-end cars, and the like. It's early in the morning, but a nice group and some really nice cars. Call Al at (443)214-8606.

Corvette meet and greet, held every 2nd Saturday, April through November, from 5-8 pm, weather permitting. Held at Security Mall (entrance closest to Sears), I-695 at exit 17 on Security Blvd in Baltimore MD. Sponsored by the Baltimore County Corvette Club. Call Larry at (301)996-6973 for more information.

"Cruise In the Southside" with the Brandywine Volunteers! First Friday of each month except July which is the second Friday from 6 pm to 9 pm. Cars, Trucks, Bikes, Lowriders, Antique to Showroom! Open to all makes & years. Presented by the VFD of Brandywine. Location is 14201 Brandywine Rd in Brandywine, MD. Vehicles admitted by donations which benefit the VFD of Brandywine. Alcohol is your own, no alcohol sales. Absolutely No Minors to Drink. No Burnouts or Reckless Driving. No loud stereo playing. Park only in designated areas or as directed by volunteers. 50/50 Drawing & door prizes on select nights. Food is usually Burgers, Dogs, Chips, Snacks, Soda, Water and Tea. Paved lot around Fire Station. For more information call the Brandywine VFD at (301)782-7258 or email at BrandywineVFD@yahoo.com

Asphalt Angels Car Club of MD sponsors a cruise-in every Monday night 6 pm -'til? at Glory Days in Bowie, MD.

The Church of da Holy Donut Cruise-In at 8 am every Sunday morning has been relocated to the Giant Food parking lot by the Burger King at 15703 Columbia Pike in Burtonsville. It is not in the Park and Ride lot. Read all about the Dunkin Donut cruise-in CLOSING.

Cruise the Burger King at 30026 Three Notch Rd with the East Coast Prostreets every Saturday night, weather permitting.

The Bay Side Mustangs and the Wheels from the Past clubs of Annapolis MD have joined forces with the Green Turtle Sports Bar & Grille to host "Cruisin with the Turtle" every Thursday night from 6 to 9 PM. Cruie-ins will be held at the K-Mart Shopping Center at Rte 214 & Rte 2. All cars from all years are welcome. For more details see www.baysidemustangs.com

2nd & 4th Saturday of every month there is a large cruise at the Home Depot with many nice cars, up to 200+ on a nice night.

Cruise the 2nd and 4th Saturdays of each month April through October from 6 pm until 10 pm. Cruise-ins are held in Frederick, MD in the parking lot behind the Westview Regal Cinema 16 Theaters located just off Rt. 85 and I-70. Cruise-Ins are open to anyone and any vehicle. If you have a car or vehicle that you love to show off, bring it to the Golden Gears Cruise-In...DJ, music, Dash Plaques (2nd Sat), 50/50 and food available.

The Mid Maryland Ford Club (MMFC) is holding a cruise-in on the 3rd Saturday of the month at Fredericktowne Mall which is located on Rt 40 west, on the west side of Frederick. This Mall has various restaurants and stores within easy walking from the cruise-in site. It is on what locals call "The Golden Mile". Questions call Dave Phelps 301-570-2077 or email

MMFC cruise-in the last Saturday of the month at Sam's Club Rt. 85 in Frederick. Proceeds to benefit the Children's Miracle Network. Visit the web site for more info. Click on Events.

Cruise Bruster's Bruster's Real Ice Cream at 18519 N. Frederick Ave in Gaithersburg MD every 2nd and 4th Saturday with the The Mid-Atlantic Cobra Association (MACA). Discount coupons for ice cream available on site.

Cruise Saturday nights from 4 to 10 pm at the Marley Station Mall in Glen Burnie MD. The cruise is open for pre '77 vechicles only. Hosted by "Lost in the 50's" car club. There are event staff and a DJ. This is one of the larger cruises in MD. $2 fee. Parking can hold approx 472 cars! Call Dennis at (410)491-9969 for more information.

Cruise-in from 5 to 10 pm at Brewsters Ice Cream every Friday night in Glen Burnie MD.

Cruise-in every Wednesday from 6 to 9 pm at Gino's at Ritchie Hwy and 5th Avenue in Glen Burnie. Call (410)302-2900 for more information.

Cruise-in at the Valley Mall behind J.C. Penny's every Saturday night from April through October from 5 to 9 pm. Average 200 to 400 cars on nice nights. Open to all vehicles. Some club activity here too (Mason-Dixon Corvette Club, Classic Car Group for Children Inc., etc...). Valley Mall is located just SW of Hagerstown off of I-81. $2 entry fee. Call Larry at (301)992-4596 for more information.

Cruise Friday nights with the East Coast Prostreets at Randy's Ribs!

Cruise into Rita's of Lanham MD every Sunday from 1 pm to close for the Classic Car Gathering Co- hosted by the Ground Pounders Car Club. Seabrook Shopping Center at 9407 Lanham Severn Rd. Email Shaun for more information.

Cruise the Rosewick Shopping Center every Friday night starting in April, weather permitting.

Unity Thunder Car Club sponsors a Friday Night cruise at the new Mall at the Capital Center beginning at the end of April (weather permitting) from 6 to 11 pm. Music, DJ, give-aways, 50/50 drawings, plenty of spacing, fantastic lighting and many restaurants. Enjoy good fellowship with other classic and street rod owners in a family atmosphere. See You There!!! For more info email the club.

Wednesday nights cruise the New Centre at Laurel from 6-9 pm at the corner of Contee Rd & Rt 1. For more information contact Dan Loukota.

Friday nights cruise the Layton�s Village Shopping Center from 5:30 pm to 10 pm at 6840 Olney-Laytonsville Road (Route 108), Laytonsville MD. For more information visit the Laytonsville Cruise-In web site. Tell David & Chuck that Nick said "Hi"! :-)

A cruise is being held every Friday night, until cold weather, starting at 5 pm in the Lisbon Shopping Center, Route 94, in Lisbon MD. Plenty to eat in the center (Pizza Hut, Subway, Dunkin Donuts, Baskin Robbins, China Yee, Harvest Fried Chicken and McDonalds). Thanks for the info Dan!

Cruise Alex's Snowcones & Ice Cream Shop at 16041 Frederick Rd in Lisbon MD the last Saturday of every month from April through October from 5 to 10 pm.

Cruise Night @ Bert's 50's Drive-In, 28760 Three Notch Rd in Mechanicsville MD, every Friday. For more info call (301)292-3238.

Cruise-in at the Jimmie Cone near the old Jamesway store in Mt. Airy. Held the 1st & 3rd Saturday of each month (April - October) starting at 5:30 pm. Street Rods, Muscle Cars, DJ, etc. (This replaces the cruise which used to be held at the Green Valley shopping Center). Multiple club activity (Mid-MD Ford Club, etc...). To get there, from I-70 take MD 27 to Mt. Airy, turn left before shopping center onto Main Street. Follow Main Street to intersection of MD 144 and turn left onto 144. Turn right into shopping center and go up the hill, you can't miss Jimmie Cone. This is one of the larger cruises in MD.

A Cruise-in will be held every Friday night from 6 to 9 pm at Bay Ave at 5th St in North Beach MD. Live bands will perform. Cruise is in conjunction with the North Beach Farmers Market. For more information call Diane at (202)257-3253.

The Olney Cruise Night will be held from April through October, weather permitting, every Saturday night from 5 to 10 pm at Fair Hill Shopping Center next to the new Greene Turtle and Harris Teeter. For more information contact Skip Piper at (301)980-6423.

New Sunday evening cruise-in at the Pasadena Diner located at 8539 Ft Smallwood Rd in Pasadena MD starting at 5 pm and ending at 8 pm. Door prizes, music, 50/50 and food. For more information call (410)544-0169.

K-Mart Kruize every Saturday night from May through October at the K-Mart on Rt 2-4 in Prince Frederick MD from 4 pm until 10 pm. Free to all. All years, makes, models of cars and trucks are welcome. Contact Jim Mothershead at (410)474 2244.

Cruise Main St in Rock Hall MD every 3rd Friday night. For more information call (410)639-7280.

Sunday morning cruise-in at the Shady Grove Exxon located at 16705 Crabbs Branch Rd in Derwood MD starting at 9 am and ending at 1 pm. Check out their website here! Tell David & Chuck that Nick said "Hi"! :-)

Cruisin at "The Greene Turtle" from April to October at 830 Market St in Westminster MD. Across the street from the Home Depot & next to Bj's. Open to all makes & models any year. Motorcycles, cars, truck, big rigs, 4-wheelers, imports. Contact Dario or Rhonda at the Turtle 410-871-1524.
WEST VIRGINIA
Bunker Hill, WV

Cruisin' the Mill Creek Intermediate School Parking Lot (Rt 11-S) with the Inwood-Bunker Hill Lions Club the fourth Saturday from 5 PM to dusk, May to September. Admission $2 per vehicle, proceeds benefit community park, youth activities & eyesight needs.

Friday Night Cruise-in at Home Depot from April through Sept from 6 pm to 9 pm at the Market Place Shopping Center on Rt.9. Feature ride award each week for 1 car and 1 motorcycle. NSRA Safety Insp available. Call Charles Tilley at (304)725-2189 or Tom VanDyke at (304)582-5086.

Cruise the Cliff in Historic Harpers Ferry WV every Saturday Night starting in April. Weekly cruise-in located directly off of Route 340 at the Vista Tavern in the Quality Hotel Harpers Ferry. Enjoy live entertainment and 10% Off food and drinks at the Vista Tavern featuring fresh steamed MD crabs and mouthwatering BBQ. No fees. Canned good drive benefit. Contact Duane Marcus at (304)886-5600.

Cruisin' the Home Depot at Market Place Shopping Center (Rt 9 By-Pass) around Ranson WV every Friday from 6-9 pm starting April thru September. Feature ride awarded to 1 car and 1 motorcyle each week. NSRA Safety Inspection available. For more information contact Charles Tilley at (304)725-2189 or Bill Crawford at (304)229-7033). For additional info see their website

Cruise In at the Quarter Mile Dinner at 69 Wardensville Industrial Park Rd in Wardensville WV from May through October weather permitting from 5 pm to 9 pm on the second Saturday of every month. All cars and bikes welcome. No alcohol or drugs permitted. No burn outs. Call Scott at (304)610-1822.
PENNSYLVANIA
York, PA

Quaker Steak and Lube Cruise-In, every Sunday at 1411 Kenneth Rd. Call (717)767-9464 for more information.

| | |
| --- | --- |
| | A COOL MUSIC SITE: It's a juke box! You pick what year you'd like to listen to. A very small window pops up and will sit in the background while you work, or do things on the computer. Check it out! |
| | Need to fill up? Here is a listing of gas prices in Maryland and Virginia as reported by you and your fellow motorists! |

Check the weather before you cruise!

HOME | EVENTS & SHOWS | CRUISES | PICTURES | VIDEOS | CLUBS | LINKS

Copyright 2001 - 2014 Capital Cruisin © All Rights Reserved! Reproduction or editing in any form, mechanical or electronic without the express written permission of CapitalCruisin.com is strictly prohibited.